At least two generations of the Rudddock family were millers in Bridgham in the early nineteenth century. They held Mill Field and some of them lived in Mill House. Apart from being aware that the present Mill House structure was built around 1800, little more is known of it or its previous occupants, if any. Although this branch of the Ruddock family first appears in Bridgham records in 1780, an earlier branch was here 'since records began' in 1558, (and presumably before that), until 1650. For Bridgham parish registers, 1558 is when records began, so the Ruddocks may have been here for generations before this date. What happened to the family after 1650 and before 1780 is something of a mystery, and one has to ask if they are the same family at all.
In support of a family connection leaping almost 250 years, there is a remarkable coincidence in that the first known Thomas Ruddock was miller of Bridgham. He owned the windmill and Mill Field which he held from the Lord of the Manor. As the post-mill was in a ruinous condition by 1900, though only 'new built' in 1808, it may perhaps have been a renovation of Thomas Ruddock's mill, or a new mill on the same site - which was not unusual.
It was in 1558 that Thomas Ruddock died. His will, dated 8th September 1558, gives some insight into his family life:
"I give to Elizabeth Ruddock my daughter toward her bridal making 10 bushels of malt and in wheat five bushels, and I give to the same Elizabeth two ewes, 20s of money and goods, and all this to be paid to the said Elizabeth at the age of 18 years. (She married Raymond Hamblyn a year later).
I give to Joan and Jan(?), my daughters, to either of them two ewes, 20s a piece to either of them and all this to be paid to them at the age of 18 years provided always that if any of them, my daughters, do depart this present world before they come to the age of 18 years then I will those that be alive shall have the part of them that be dead.
I give to Thomas Ruddock my son my best feather bed with the best bolster pillow, a mattress, a pair of hemping sheets with a pillow berre, a pair of blankets, a coverlet, a cow with one bullock of two years of age, a cupboard saving I will Joan my wife shall have the occupying of the same cupboard for term of her natural life and then the said Thomas my son to have it."
There is much more of this domestic distribution to Thomas junior:
"I give to the said Thomas my son two best horses, the price 20s a piece with halters, collars and harness for the same two best horses with all my tales (?) both small and great. 5 combes of barley and 5 combes of rye and 10 ewe sheep all this to be paid to the said Thomas my son at the age of 20 years. I give to Thomas my son one shodd cart with a tumbrel. They to be all to the said Thomas my son within one year of my death provided always if it shall please God to take the said Thomas my son to his mercy before he …… the age of 20 years."
Of particular interest to us is the disposal of one of his main assets, the windmill:
"I give to Thomas Ruddock, my son, my windmill standing in the fields of Bridgham and holding of my lord the Bishop of Ely with all things that pertaining there to ser..[unreadable]. I will Joan Ruddock my wife shall have the profits and commodities and occupation of the said windmill for the time and space of two years after my death then I will my son shall enter it with sufficient reparation and all things for the going thereof."
Thomas, was one of the chief citizens and a man of property leaving his wife "all my houses and land bound and lying in the town and folds of Bridgham."However, there were conditions in favour of the number-one son. She received the property "...for the term of her natural life, paying the lord and finding sufficient reparations and to make no charges nor waste in nothing pertaining to the said houses and land, and if there be, then I will Thomas Ruddock my son, with two or three of the lord's tenants with twice or thrice friendly warning, then I will for the mending thereof and if it be not mended with such friendly warning, then I will Thomas my son shall enter the said houses and land to have … use and his for ever."
Two hundred and fifty years later, his likely descendants, William and John Ruddock, carried on the same tradition as pillars of the community and men of property, for as well as Mill House, John owned the White Lion (see Norfolk Pubs website) and his father, William, was the churchwarden.

A few years before Thomas Ruddock's death, a previous rector of Bridgham, from the time of Henry VIII, also died. He left a bequest in his will for the poor people of Bridgham, still active today as part of the Bridgham Charities money. Rev. Risley was his name and Risley Close is named after him.
Returning to Thomas, we see a connection with Risley in his regard for the poor. In Ruddock's case, though, there is an ulterior motive:
"I commend my soul into the hands of my lord God, to our lady Saint Mary and all the holy company of heaven, and my body to be buried in the churchyard of our Lady in Bridgham aforesaid. I will have at the day of my burial: dirge and Mass and the poor people of Bridgham to have among them, to pray for my soul, and all share 6s 8d."
They only get the money, provided they pray for him - pray and pay!
Ruddock's windmill replaced the medieval water mills mentioned in both Domesday Book and the Bishop of Ely's survey of 1251.

Another document surviving from 1558 in the reign of Queen Mary is a terrier [i.e. register] of Sir Thomas Lovell's lands in Bridgham. The terrier restricts itself to describing the size and location of land. Not all the land is his, for the simple reason that he is not the lord of the manor. Sir Thomas Lovell, was however, lord of the manor of East Harling. His magnificent tomb is in the church.
The terrier reveals that he had bought many small parcels of land in Bridgham, most only of one or two acres. The locations of these strips of land are defined by who else's land abuts them, so it is difficult to relate their whereabouts to a modern map of Bridgham. A few field names are the same as are used today, but there is no guarantee they are in the same place! Others are a complete mystery.
The opening descriptions include abuttals starting at 'burnt mill'. This is likely to be the remains of one of the two water-mills, mentioned as far back as Domesday book. They were known as West_Mill and Town_Mill. The description continues 'the abuttals beginneth at Burnt Mill and so leadeth North towards Bridgham furres (furze?) and the Mill Field towards the West and the Town on the East.' It is difficult to work out the starting point and the direction the terrier takes. We know that the two water-mills were half a mile apart. Could Town Mill be at the river bank south of Mill House? This may be the burnt mill and may help explain why the windmill was built direct north of it - close to the miller's house. All this, of course, is complete conjecture. If they were the same water mills as mentioned in Domesday book, they were nearly 500 years old at least in 1558!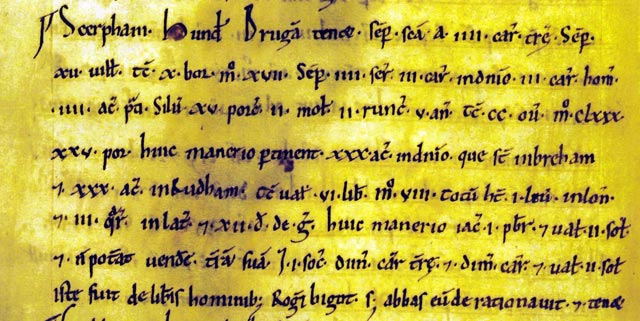 Extract from Domesday relating to Bridgham and the mills